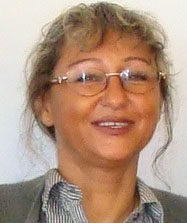 Mimi Kornazheva is an Associate Professor at the University of Ruse (Bulgaria) and was one of the founders of European Studies in Bulgaria in 1993. Her teaching interests include Еuropean Integration, Multi-level Governance in the EU, International Cooperation and European Projects, European Studies and Regional Cooperation and European Studies and Public Administration. As the Director of BRIE (Bulgarian-Romanian Interuniversity Europe Center) she has been involved in the establishment and development of the first cross-border (Bulgaria-Romania-Germany) academic structure in South-Eastern Europe. She has participated in various research projects and currently coordinates project BRAINS (Bulgarian-Romanian Area Identities: Neighbourhood Study), financed within the framework of the EU cross-border cooperation programme. She was a leader of the educational project BRIDGE (Bulgarian-Romanian Initiative for Democracy as a Guard-post of Europe) of the EU PHARE programme. She is a holder of a Diplom d'hôneur from the Academy of Economic Studies – Bucharest and the Crystal Prize for Best Paper from the Union of Scientists and University of Ruse. 
James Michalec is currently an adjunct professor of Speech at Broome Community College (of the State University of New York) in Binghamton, New York.  His career has spanned both business and teaching.  He holds a BA in Economics from Northwestern University in Evanston, Illinois, and Masters in Teaching, History, and Theatre from the State University of New York at Binghamton. Prior to moving to Binghamton, New York, he taught IB world history, AP American history, public speaking, economics, and theatre at the Islamic Saudi Academy, a college preparatory school, in Alexandria, Virginia.  He is also an actor and writer of short stories and plays. 

Heather D. DeHaan is an Associate Professor of History at the State University of New York at Binghamton, where she teaches Russian, Soviet, East European, and urban history as well as historiography. She received both her masters and doctoral degrees from the University of Toronto, Canada. She has published several articles and given a large number of academic and public lectures on Soviet planning, urban development, and architectural professional politics. Her publications include a prize-winning article on the Soviet use of religious metaphor in propaganda for women (1999) and a book based on her prize-winning dissertation on the planning of Nizhnii Novgorod in the 1930s (2013). An active member of the American Historical Association, the Canadian Association for Slavic Studies, the American Association for Slavic, East European, and Eurasian Studies, and the Urban History Association, DeHaan is currently studying how Soviet urban development impacted Baku's community life--people's everyday activities, social interaction, and value systems.