Establishment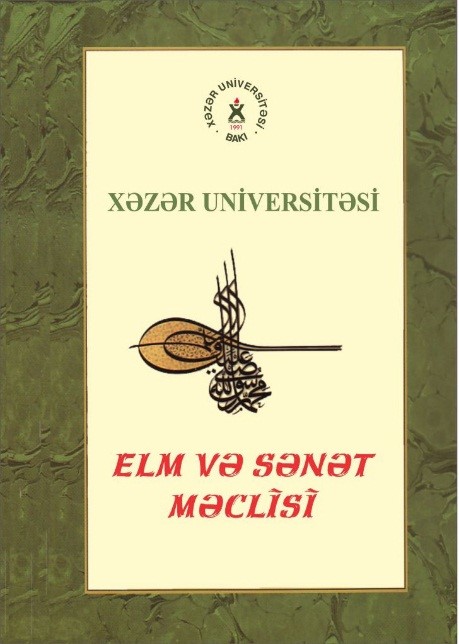 The Assembly of Science and Art includes conferences and seminars in which scholars and intellectuals discuss essential issues related to Science, Culture and Art at Khazar University. The Assembly of Science and Art was founded by Prof. Hamlet Isakhanli in 2006. The Assembly has become a venue in recent years where scholars, artists and intellectuals visit with delight. The materials of "the Assembly of Science and Art" which is usually held once or twice a month, are published. 
History
The first meeting of the Assembly of Science and Art was conducted on October 10, 2006. So far, along with prominent Azerbaijani scholars, famous and respected scholars from the USA, Turkey, Great Britain, Scotland, Italy, Russia, Egypt, Netherlands, Iran, Georgia etc. have delivered lectures on various topics in the Assembly of Science and Art. Two volumes of materials of the Assembly have been published, and the others are soon to be published.
Aim
The foreword entitled "The Assembly of Science and Art  - the Need for Communication" by Hamlet Isakhanli, the founder and chair of the Assembly, dedicated to the necessity for founding the Assembly of Science and Art, its overall action plan and missions .
Assembly of Science and Art – the Need for Communication
A scientist or artist thinks about the creation of scientific work or piece of art, develops it in their mind and heart (sometimes over a period of years) individually until one day, suddenly, he or she brings the work up to the surface and announces it to others. Sometimes, scientific or artworks can be created collectively by a small group, with joint efforts of more than one person. In this case too, first, individual members of the group think about the work individually, guarantee their participation on the basis of their personal knowledge, talent and energy, and the collective result is achieved through communication, joint analysis and discussion of individual inputs.
Creative people of Art and Science, intellectuals in general, always need communication among them and attach great importance to it. Undeniably, we need to share our new inventions and discoveries, ideas and works, and our thoughts, boiling up inside us, all to like-minded people who would understand us and share our happiness as well as concerns. It is a delight to talk with a professional, to exchange ideas and let them share in the joy of your discovery of original ideas. As we make them happy with our pleasant surprises, in turn, we generate more positive energy, pleasure and inspiration… On the other hand, receiving criticism and advice from professionals makes us think broader and deeper, and thus, increases our chance to come closer to the truth.
Even if an issue of discussion is not connected with their professional field, looking at the issue and asking questions from different perspectives, a broad-minded and creative person can affect one's opinion and way of thinking. Of course, creative and intellectual people always inspire by sharing their new ideas with others and at the same time hear of new ideas from them. These, as well as, the need for educating and enlightening people are among the main factors bringing creative people together.
I understood the great importance of communication in scientific activity when I was a doctoral student and researcher at the Moscow State University named after Lomonosov and also at the Institute of Mathematics named after Steklov in Moscow. Weekly scientific seminars, attended by prominent scholars, researchers and students, had no equal in terms of receiving information about important ongoing scientific works and achievements worldwide, analyzing problems of our scientific interest and discussing issues with the people who opened new paths in science. We first felt and realized the phenomenon of the 'scientific school' in the extraordinary power these seminars generated.
The mixed feelings that came with the collapse of the Soviet Union, consolidation of the materialistic approach based on new capitalist relations and the destruction of traditional systems of moral values by the globalization process confused people, including artists and academics. Interest in scientific researches decreased and the education system became chaotic. The need for intellectuals, scholars and men of arts coming together in a "wise" place, to discuss and share their problems increased. How could we help with bringing into life our wishes that originated from the demands of our day and essence of our soul-changing from complaining to analysis and from grievances to research, revitalizing scientific-cultural environment, and becoming informed about events and developments in the world of science and culture?
During the spring and summer of 2006, we finalized our idea by establishing the Assembly of Science and Art to discuss important issues in any field without limitations. We decided to invite speakers to every meeting of the Assembly, listen to their speeches, ask questions, receive comments and hold discussions.
The first meeting of the Assembly was held on October 10, 2006. We invited specialists and prominent men of arts and sciences from both Azerbaijan and outside the country to the following meetings. Shortly, our Assembly of Science and Art became known and liked.
Materials of the meetings publish in a book, and we try to keep the text as close as possible to the original speeches and discussions.
Assemblies
Lectures delivered in the Assembly of Science and Art
1. 10.10.2006. Philosophy and Poetry (Speakers: Hamlet Isakhanli and Jamal Mustafayev)
2. 31.10.2006. Sufism in Islam (Speakers: Hamlet Isakhanli and Jamal Mustafaev)
3. 22.11.2006.  Translation Activity in Medieval Times. Translations of the Qur'an (Speaker: Mirza Rasul Ismailzada)
4. 12.12 2006. The Turks in the Arabic World during Medieval Times. Afshin (Speakers: Nargiz Akhundova and Farda Asadov)
5. 23.01. 2007. Translation into Azerbaijani in Medieval Times. XV–XVI  centruies (Speaker: Movsum Naghisoylu)
6. 13.02.2007. The Turkish World Today. Turkish Minorities (Speaker: Gullu Yologhlu)
7. 27.02. 2007. The Essence and Symbols of Hurifism (Speaker: Nasib Goyushov)
8. 13.03.2007. Soviet-America Confrontation: The Azerbaijani Crisis and the Cold War (Speaker: Jamil Hasanli) 
9. 03.04.2007. Ethno-genesis and Azerbaijani Historiography (Speaker: Suleyman Aliyarli) 
10. 08.05.2007. Culture and Ethno-national Psychology of the Georgian Nation: A Comparative Analysis (Speaker: Imir Mammadli) 
11.  22.05.2007. Spiritual Inheritance of the Generations (Speaker: Jamal Mustafaev)
12. 25.10. 2007. Islam in the Globalizing World (Speaker: Mustafa Islamoglu)
13. 16.11.2007.Huns in Eurasia. History, Culture and Identity (Speaker: Hamlet Isakhanli)
14. 04.12. 2007. Shams Tabrizi and Movlana Jalaleddin Rumi: the Myth and the Truth (Speaker: Elnur Nasibli)
15. 27.12.2007. Culture of City. History, Today and Future (Speaker: Ismail Serageldin)
16. 26.01.2008. About the Problem of 'Armenian Genocide' (Speaker: Norman Stone)
17.  29.01.2008. Edward Said, Orientalism and Post-Colonial Researches (Speaker: Touraj Atabaki)
18. 15.02.2008. History of Researches on Azerbaijan Literature and Culture in Turkey (Speaker: Yavuz Akpinar)
19. 20.05. 2008. Reading of the Ancient Information about Azerbaijan-Alban History (Speaker: Firudin Agasioglu)
20. 10.06.2008. Azerbaijan Culture in the Electronic Area (Speakers: Tariel Mammadov & Aydin Khan)
21.  04.11.2008. Azerbaijanians in Amasya and in Istanbul (Speaker: Ibrahim Yildirim)
22. 25.11.2008. F. Nietzsche – the Hot-tempered Philosopher of the History (Speakers: Aghalar Mammadov & Mail Yagubov)
23. 16.12.2008. Sigmund Freud –the Founder of Psychoanalysis (Speaker: Ulkar Isayeva)
24.  13.01.2009. Ibn Xaldun: the Great Islamic Philosopher & Sociologist (Speaker: Ahmet Arslan)
25. 15.01.09. Islam and Modernization (Speaker: Ahmet Arslan) 127
26. 27.01.09. M. A. Rasulzadeh and Independence of Azerbaijan (Speaker: Shirmammad Huseynov)
27.  10.02.09. The Problems of the Ancient Turkish History (Speaker: S.Q.Klaştornıy)
28. 12.02.09. The Asian Aspect of the Early History of Khazars (Speaker: S.Q.Klaştornıy)
29. 14.04.09. The Literary Language of Garakhanli Period & the Oghuz Turkish (Speaker: Ahmet Bijan Erjilasun)
30. 28.04.09. The Caucasian policy of Ottoman Empire during World War (Speaker: Michael A. Reynolds)
31. 03.11.09. The Sumerian - the most Ancient Culture of the Mankind. Veronica K. Afanasyeva (St. Petersburg Institute of Oriental Studies, Russia)
32. 05.11.09. Ancient Civilizations and Modern Times. Veronica K. Afanasyeva (St. Petersburg Institute of Oriental Studies, Russia)
33. 10.11.09. Comparison of Islamic and Western Culture. Tahsin Gorgun. (Turkey)
34. 12.11.09. Islam and Modernization from the Global Perspective. Tahsin Gorgun. (Turkey)
35. 04.05.10. Diary of People Traveling to Inaccessible Destinations. Huseyn Baghirov (Ministry of Ecology and Natural Resources)
36. 11.05.10. Modern Climate Change and Azerbaijan. Rza Mahmudov (Director of the Institute of Hydrometeorology Scientific and Research Institute of the Ministry of Ecology and Natural Resources, Azerbaijan)
37. 28.09.10. Alliance Diplomacy of the Great Trio during World War II. Vladimir Pechatnov (Moscow State Institute of International Relations, Russia)
38. 30.09.10. Geopolitical Outcomes of the Second World War for the USSR and the USA. Vladimir Pechatnov. (Moscow State Institute of International Relations, Russia)
39. 26.10.10. About Controversial Archive of So-Called Armenian Genocide. Kemal Chichek (Turkish Historical Society, Turkey)
40. 27.10.10. Relocation of Armenians and the Importance of Ottoman Resources. Kemal Chichek (Turkish Historical Society, Turkey)
41. 23.11.10. Regional Diplomacy in the Gaps of Empires: Iran's Policy on the Democratic Republic of Azerbaijan in 1918-1920. Oliver Bast (The University of Manchester)
42. 10.12.10. Who is the author of "Ali and Nino", the Most Famous Novel of Azerbaijan? Betty Blair (Editor of "Azerbaijan International")
43. 28.12.10. Historiography: Problems and Different Approaches. Jamil Hasanli and Hamlet Isakhanli
44. 08.02.11. Academic Freedom in the Contemporary Global Environment and University Autonomy. Kemal Guruz (Former Chairman of the Higher Education Board, Turkey)
45. 22.02.11. Novruz Charshanbas and Regional Specifications. Gullu Yologhlu (PhD in Historical Sciences, Azerbaijan)
46. 15.03.11. Anti-fascist Italian Resistance Movement and its Azerbaijani Participants. Mikhail Talalay
47. 24.05.11. The Collapse of the Russian Empire and the Muslims. Salavat Isakov (Russia)
48. 26.05.11. Azerbaijan Emigration. New Documents and Materials. Salavat Isakov (Russia)
49. 28.09.11. Islamic and Western Political Thoughts. Does History Give Lesson? Antony Black (Scotland)
50. 01.11.11. Technology as the Factor of Human Life. Larry A. Hickman (Southern Illinois University, USA)
51. 09.12.11. Abu Hamid Al-Ghazali: History and Today. Ahmet Arslan, Hamlet Isaxanli.
52. 27.12.11. Epos and Turkish Pre-History. Suleyman Aliyarli (Honored Scientist, Doctor of Historical Sciences, BSU)
53. 12.04.12. Ancient Turkish Ethnophrases in Ancient Russian Literary Monuments. Zahir Asadov (Baku Slavic University)
54. 01.05.12. Psychological Effect of Light. Biological Time and Depression. Reshit Janbeyli. (Boğaziçi University, Turkey, Colombia University, USA)
55. 15.05.12. The Role of Gori Seminary in the Development of Azerbaijani Culture and Education. Huseyn Ahmedov (Azerbaijan Pedagogical University)
56. 07.12.2012. Alimardan Bey Topchubashov. Lifetime between Three Countries. Jamil Hasanli
57. 23.04.2013. Theodor Shumovski-100. Life and career. Nargiz Akhundova (Institute of History of ANAS)
58. 31.05.2013. Recent History and Current Day of Iran: Basic Development Trends and Overview of Near Future. Michael Rubin (the USA)
59. 01.11.2013. Seyid Yahya Bakuvi: Life, Creativity and School. Mehmet Rihtim (Caucasus Research Institute)
60. 17.02.2013. Peace and War. New Historical Overview of the Realities of Gulistan Peace Treaty. Oleg Yuryevich Kuznetsov (Historian-lawyer, Russia)
61. 21.01.2014. Excavations on Neolithic Period in Turkey and New Views. Preservation, Exhibition, and Open Air Museum in Archaeological Excavations. Mehmet Ozdoghan, Zeynep Eres (Turkey)
62. 17.12.2014. Ecological Union of the Caucasus. Georgi Kvesitadze (President of the Academy of Sciences of Georgia).
63. 03.02.2015. Geography and history of genetic migrations. Prof. Stoyan Dinkov (Bulgaria).
64. 07.04.2015. Mirza Shafi Vazeh and Frederic Bodenstedt. Great friendship and great separation. Prof. Hamlet Isaxanli.
65. 30.01.2016. The structure of central nervous system. Prof. Mahmut Gazi Yashargil (Turkey).
66. 18.04.2016. Nomadic Peoples in Europe: Role of Hungarian and Turks in the Formation of Early Middle Ages History of Europe. Prof. Istvan Zimonyi (Hungary, Szegedi University).
67. 04.05.2018. Middle East and the Republic of Turkey. İlker Başbuğ, the 26th Chief of the General Staff (Turkey).
 68.11.12.2018. Tea-growing and subtropical plants in Azerbaijan. Farman Guliyev
69. 05.03.2019. The Polymath. Waqas Ahmed (Great Britain)
70. 06.03.2019. Khalili Collection. Waqas Ahmed (Great Britain).
---
Photos of 55th Meeting of Assembly of Science and Art - Gory Seminary's role in the development of Azerbaijan's culture and education.