Personnel Office
Personnel Office is part of the University's central administrative support services and we are committed to providing the University with a high quality, efficient HR service which will contribute to the quality of teaching and research of the University.
Our service includes:
Recruit
Recruit, and develop strategies to recruit, quality faculty and staff to support the needs of the University.
Performance Management
Coordinate performance appraisal schemes to encourage continuous improvement.
Staff Relations
Enhance communication between staff and management and promote staff relations through a variety of staff functions.
Professional Personal Consultation Service
Provide professional personal consultation service to help employees deal with work-related and personal problems.
Personnel Data Administration
Maintain and manage an integrated database on University manpower resources.
Contacts: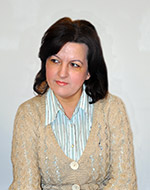 Aybeniz Namazova
Coordinator
E-mail: anamazova[at]khazar.org
Phone: (+99412) 421 10 93 (206)