The classes at the university are conducted in 5 educational campuses with a total area of 17.542 square meters.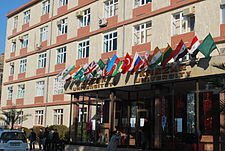 Neftchilar Campus-1 
Address: 41 Mahsati Street 
The publishing house, printing house, copy center, scientific and educational laboratories, academic departments, scientific institutes and centers as well as the offices of published literary-publicistic journals are located here. One part of the rich university library, modern computer centers, medical center and a sport hall serve students and staff members.
Neftchilar Campus-2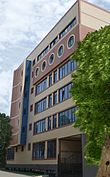 Address: 41 Mahsati Street
The educational building consists of computer centers equipped with the most modern computers, modern whiteboards, and projectors, as well as large and light lecture rooms equipped with video-control systems; a canteen which exceeds all hygiene requirements and covers the first floor of the building; a large library which is located on the 5th and 6th floors of the building and is rich in modern textbooks; and a specially-designed conference hall.
Downtown Campus
This building consists of over 20 classrooms, a conference center, canteen, library and computer laboratory as well as a beautiful theater hall seating 280 people. The same hall is used for conducting conferences, reading days, various meetings and other events.
Binagadi Campus

Address: 9 Nakhchivani Street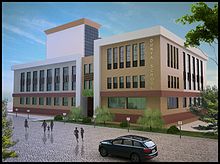 Khazar University's affiliate Dunya School is located here, and some classes of the School of Education are held here as well. This campus, built according to a modern design, takes up approximately one hectare. It houses three academic buildings and a separate sports complex, and is equipped with all the necessary facilities including a library, scientific laboratories, computer laboratories, a cafeteria, a guesthouse and more. The Khazar University Technopark is also located on this campus
Khazar University Psychological Consultation and Psychotherapy Center

Address: 31 Hazi Aslanov Street 
The aforementioned center of the university conducts activity on this site. The Center serves the public and organizations along with being engaged in scientific research and education.