Foundation 
Khazar University was established on March 18, 1991 according to resolution N41 of the Cabinet of the Ministers of Azerbaijan Republic as Azerbaijan University with English as a medium of instruction to satisfy a great necessity of the country in qualified English speaking specialists.
In 1992 Azerbaijan University was renamed to Khazar University according to the decision of the Academic Council of the University. 
The excerpts of official resolutions by which Khazar University was established are given below: 
Republic of Azerbaijan
Cabinet of Ministers 
Resolution N 286 
20 December 1990, Baku 
On the Preparatory Works for Establishment of Azerbaijan University (Khazar University-Ed.), where the Medium of Instruction is Primarily English. It is expedient to establish a multi-profile Azerbaijan University (Khazar University - Ed.) with the English language as a primary medium of instruction. The education system in this University will be based on the two-cycle system (Bachelor's and Master's degrees - Ed.), according to international standards. It is intended to organize the first enrollment to the university in the 1991-1992 academic year in the following four fields of studies, consisting of 15-20 students in each of them:  
Economics and management 
Computer, statistics and mathematical sciences 
International relations and political sciences 
Ecology
fields at the university in the future
It is advisable also to train specialists in medicine, biology and other fields at the university in the future. 
Prime Minister H.Hasanov 
Resolution N 41
18 March 1991, Baku 
On Establishment of Azerbaijan University (Khazar University - Ed.), where the Medium of Instruction is Primarily English Taking into consideration the great need of the Republic of Azerbaijan in highly qualified specialists, the Cabinet of Ministers of the Republic of Azerbaijan resolves: 
to establish multidisciplinary Azerbaijan University, where the medium of instruction will be English. the University is a legal entity functioning due to its own constitution. 
Prime Minister H.Hassanov
Excerpt from University Council decision of February 1992: 
Azerbaijan University, where medium of instruction is English, shall be renamed to "Khazar* University".
For official approval of the new name of the University, all related organizations, including the State Accreditation Commission, shall be informed of this decision. 
Chairman Hamlet Isakhanli
Recognition 
On April 10, 1993, the 0/1st resolution of the State Accreditation Commission of the Ministry of Education endowed Khazar University the right to train specialists in various fields of Sciences and Engineering, Arts and Humanities, Social Studies, Law, Management, Medicine.
In 1995 Khazar University was accredited by the State Accreditation Commission for Private Universities. All schools of the University received full accreditation. 
In 1997 the Khazar University academic programs including graduate programs were fully accredited by the Ministry of Education and Council of Ministers. 
On July 10, 2002, all academic programs of Khazar University were fully accredited by the Ministry of Education. 
Mutual recognition of Khazar University and a number of leading universities in North America, Europe and Asia has taken place worldwide in the form of agreements between the universities. Currently, Khazar University runs various student and faculty exchange programs, as well as university development and other partnership programs. 
In 2004, industry partners evaluated the capacity for the development of university-industry relations among Azerbaijani higher education institutions. Khazar University was the best, according to these reports. 
In 2006, within the framework of the Visiting Advisors Program of Salzburg Seminar, a group of European and American experts visited Khazar University for assessment and produced a positive evaluation report on Khazar's current situation and future perspectives as a model of a modern higher education institution. 
In April 2011 all academic programs of Khazar University were fully reaccredited by the Ministry of Education.
Khazar University is: A private educational institution for undergraduate, graduate and professional studies promoting advanced study and research, educational policy and development in the Republic of Azerbaijan. Khazar is the first private University in Azerbaijan and in the countries of the former Soviet Union. The first in Azerbaijan to apply a flexible credit-based education model. The first University in Azerbaijan where the main language of instruction is English. The first University in Azerbaijan composed of multiple independent schools united by the same academic policy and principles, which offer a wide scope of diverse majors in Arts, Humanities and Social Sciences, Architecture, Engineering and Applied Sciences, Economics, Management and Business Administration, Law, Education, Medicine, and Public Health. A research-oriented university. Also one of the leading universities in Azerbaijan in terms its relations with industry. Today the University has established effective relations with the leading local and international companies. 
Professors of Khazar have earned recognition and leadership in their professional fields or are business leaders, artists and lawyers with national and international reputations. 
Graduate studies including Professional, Ph.D. and Master programs, and the most extensive MBA program in Azerbaijan have an important place in the University's education profile. 
Khazar has a good learning environment and friendly people. 
One-on-one contact with professors, personal attention to every student and quality of education in a small-size private institution are among the main characteristics of Khazar University.
In Search of "Khazar" by Hamlet Isakhanli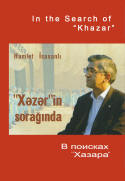 The realities of events associated with the establishment and development of Khazar University have left indelible traces in my memory. I intend to pass these events to you in their entirety and in all sincerity. I hope I can relive together with you, readers, those days spent in 'search of "Khazar" Azerbaijan, Baku, Khazar University press 2006. ISBN10 9952-20-034-X ISBN13 978-9952-20-034-8