At the department's laboratory the following modern large-scale teaching systems are available:
(The equipment is delivered from the firm K&H MFG. CO., LTD., TAIWAN.)
BASIC COMMUNICATION LAB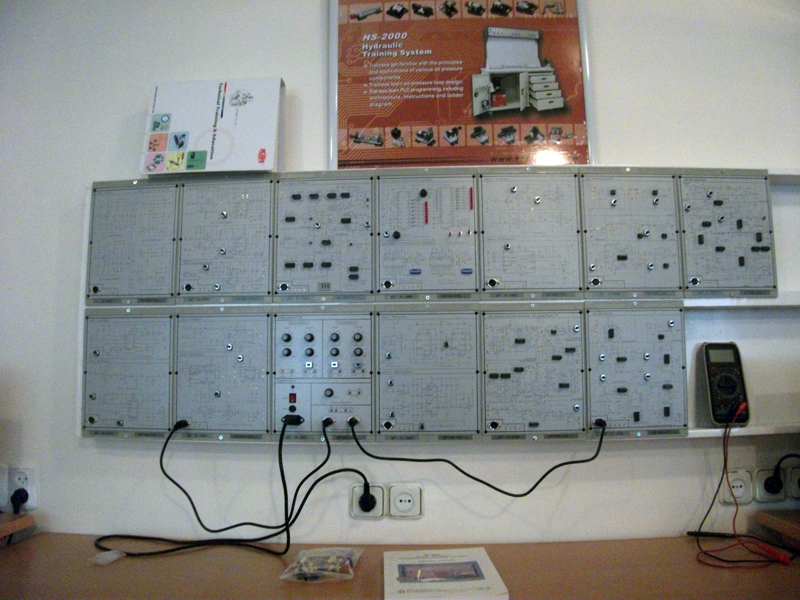 The KL-900A offers an experiment for fundamental-level topics of a telecommunication course. It enables the students to acquire a clear experimental 
view of the basic concepts and become familiar with the operative aspects of the work in the telecommunication laboratory.
ANALOG COMMUNICATION 
RF Oscillator Experiment 
Second Order LPF & HPF Experiment 
AM Modulator Experiment 
AM Demodulator Experiment 
DSB-SC and SSB Modulator Experiment 
DSB-SC and SSB Demodulator Experiment 
FM Modulator Experiment 
FM Demodulator Experiment 
PLL Frequency Synthesizer 
TDM Multiplexer Experiments 
TDM Demultiplexer Experiments 
FDM Multiplexer Experiments 
FDM Demultiplexer Experiments 
Multiplier Frequency Up/Down Converter Experiment 
Carrier Frequency Recovery Experiment 
Synchronal Clock Recovery Experiment
DIGITAL COMMUNICATION 
Analog to Digital Experiment 
Digital to Analog Experiment 
PWM Modulator Experiment 
PWM Demodulator Experiment 
FSK Modulator Experiment 
FSK Demodulator Experiment 
CVSD Modulators & Demodulators / Manchester Code 
Encode / Decode 
ASK Modulator / Demodulator 
PSK / QPSK Modulator / Demodulator
The trainer combines the basic modules with experimental circuits. It offers the beginner complete courses of basic Communication.
KL-900A is equipped with a power supply and signal unit. Students only have to obtain the oscilloscope or Spectrum Analyzer together for completing various experiments independently.
With an open-modularized design, it enables ranges of experiments to be extended.
AM/FM TRANSMITTER & RECEIVER SYSTEM
AM transmitter which is perfect to produce 1MHz
AM receiver frequency range : 535KHz ~ 1605KHz
With perfect FM transmitter which is able to produce 10.7MHz Intermediate frequency.
FM receiver frequency range : 88MHz~108MHz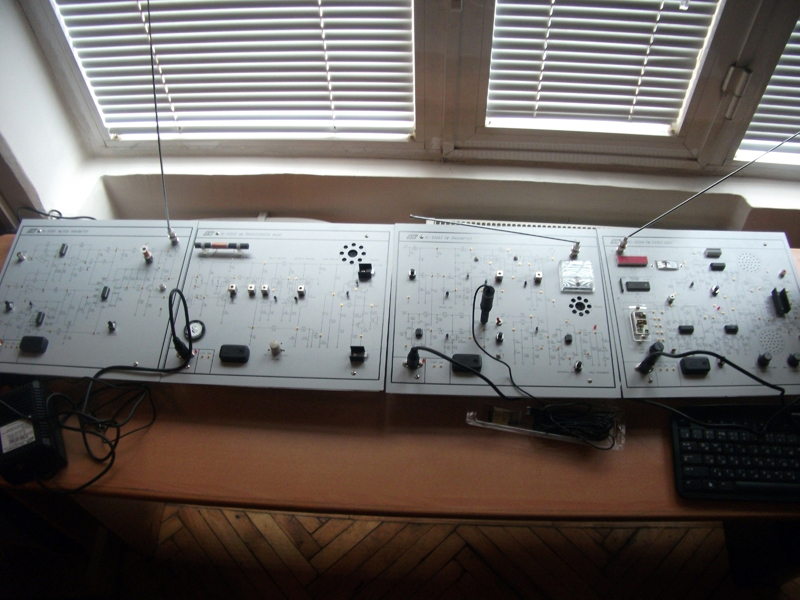 FIBER-OPTIC TRANSMISSION TRAINING SYSTEM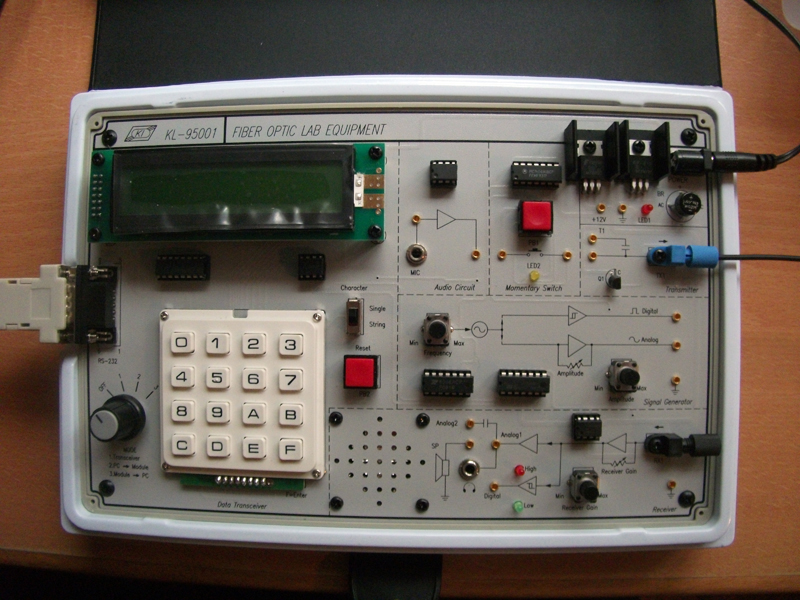 Fiber optic communication is one of the most popular technologies in the modern days due to its high transfer speed and large capacity. 
KL-900D uses fiber optic as a transmission media for the whole experiment.  
With four different ways of transmittng data (self module transmission, module-to-module transmission, PC-to-module transmission, and module-to-PC trans-missions) and various different modulation/demodulation methods (CVSD, FSK, etc.) introduced in the training system, users can obtain a very clear view of how Fiber-optic transmission works.
Characteristics of fiber optics experiment
Applications of fiber optics experiment
Light sources of fiber optics
Light and fiber optics interaction experiment
Fiber optic transmitters experiment
Receivers for fiber optic system experiment
Fiber optic expand and network experiment
Fiber optic connectors and lose-polishing experiment
Fiber optical data-transmission-self-transceiver experiment
Fiber optical data-transmission-double-transceiver experiment
Fiber optical data-transmission - PC to Module experiment
Fiber optical data-transmission - Module to PC experiment
Fiber optical data-transmission - CVSD modulation & demodulation experiment (optional)
Fiber optical data-transmission - ASK modulation &  demodulation experiment (optional)
Fiber optical data-transmission - PSK/QPSK modulation & demodulation experiment (optional)
EXPERIMENT MODULES
2mm connection leads are used throughout the system
The building blocks and components symbols of the circuits are printed on the surface of each module.
Modules are secured in plastic housings (255 x 165 x 30 mm ±10%)
Comprehensive experimental manual
Use bridge plugs on circuit loop to reduce the possibility of errors
BASIC ELECTRICITY CIRCUIT LAB
KL-210 is ideal for Electrical, Mechanical, Automative, Automotive, Science, Civil & Electronics Engineering Learning. The experiment requires for all necessary equipment for electric circuit experiments such as power supplies, function generators, and analog and digital meters to be installed on the main unit. 
All essential topics of electrical circuit learning are studied by different modules.
Ideal for students to learn the design of electrical, electronics and digital logic circuits.
For efficient learning, power supply, function generator and measurement unit are all included.
All supply units are secured with overload protection.
With one main unit, the user can choose the needed modules for different learning topics. 
BIOMEDICAL MEASUREMENT SYSTEM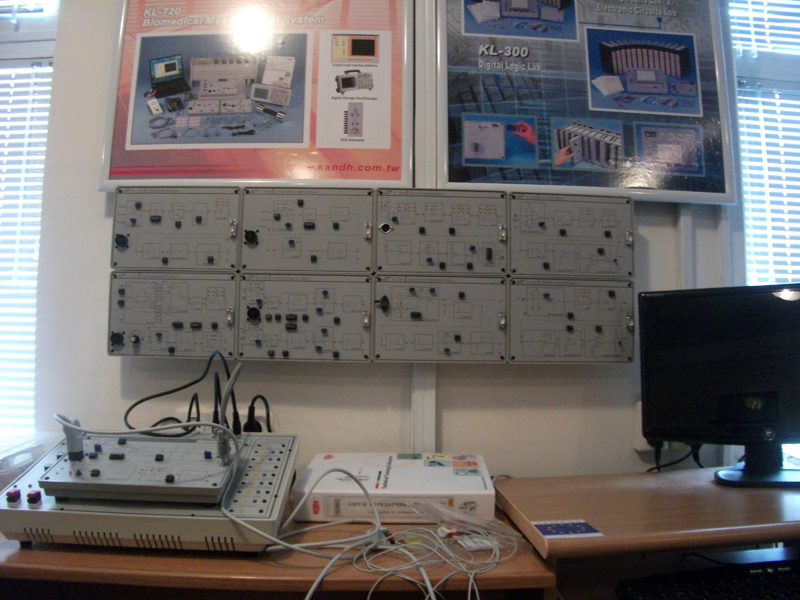 This equipment is intended for students to learn with practical operation how to design specific measuring circuits and detect the basic physiological signals. Moreover, students come to understand the electrical characteristics of the sensors and transducers explicitly.
KL-720 contains nine modules, including Electrocardiogram Measurement, Electromyogram Measurement, Electrooculogram Measurement, Electroencephalogram Measurement, Blood Pressure Measurement, Photoplethysmogram Measurement, Respiratory Ventilation Detection, Pulse Meter and Body Impedance Detection.
The sensors and transducers used in this equipment include pressure transducers, infrared photocouplers, strain gauges, temperature sensors and surface electrodes.
Each module has many test points for changing the frequency, bandwidth and amplifier's gain.  Thus, students can understand the correlation between the physiological signal and each circuit stage.
KL-75001 Electrocardiogram(ECG) Measurement 
KL-75002 Electromyogram (EMG) Measurement 
KL-75003 Electrooculogram (EOG) Measurement 
KL-75004 Electroencephalogram (EEG) Measurement 
KL-75005 Blood Pressure Measurement
KL-75006 Photoplethysmogram Measurement
KL-75007 Respiratory Ventilation Detection
KL-75008 Pulse Meter
KL-75009 Body Impedance Detection
EXPERIMENT MODULE FEATURES
All terminals on the module accept 2mm plugs.
Circuit symbols, blocks and components are printed on the surface of each module.
Modules are secured in plastic housings.
Dimension : 255x165x30mm ± 10%
Modules have storage cabinet for easy storing
Comprehensive experiment and instructor's manuals are provided. 
COMPLETE INDUSTRIAL ELECTRONIC TRAINER
It has become important nowadays to train technicians to be able to install and maintain electronic equipment.  
A good technician should follow state-of-the-art technology and rapid products innovation. 
Our system is intended for this technical education. In fact, KL-500 is adapted to theoretical and practical courses for studying power electronics and industrial electronics.
Power Supply Unit Experiment
UJT Experiments
PUT Experiments
PUT & SCR Experiments
SCS Experiment
UJT & PUT Trigger SCR Experiments
SCR Control DC Motor & DIAC, TRIAC
Automatic Control Lamp, TRIAC Control Speed Experiments
Temperature Radio, Photo-Couple and Touch Control Experiments
Over/Under Voltage Breaker and Flasher Control Experiments
TRIAC Liquid Level & IC Timer Switch Experiments
Digital Signal Driver & Zero-Voltage Switch Experiments
Zero-Voltage Switch Experiments
SCR Converter Experiments
SCR Rectifier Circuit Experiments
JFET/MOSFET Characteristic & MOSFET Speed Control Experiments
IGBT Characteristic & IGBT Speed Control Experiments
Comprehensive study including theoretical study and practical exercises
Use of industrial-type components, devices and circuits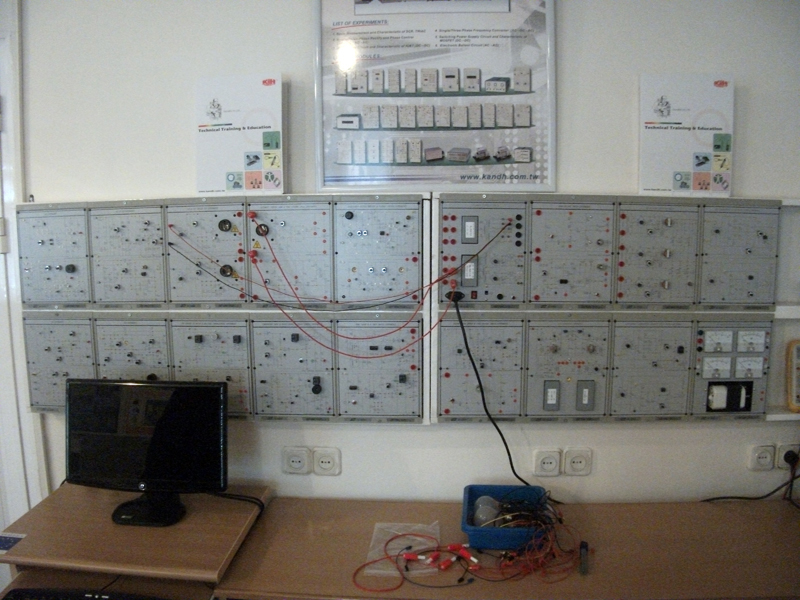 LOGIC LAB
The IDL-400 logic trainer is designed for the logic beginners to enhance the comprehension of basic logical theory. The design of IDL-400 is easy to operate and understand. It is equipped with various kinds of basic logic gates, debounced logical switches, LED indicators, DC power supply with short circuit protection, pulse generator and solderless breadboard.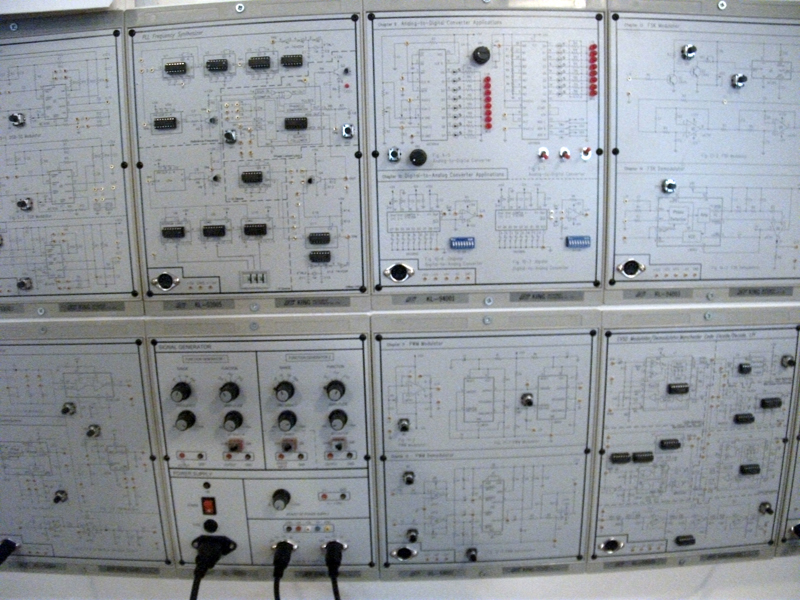 ANALOG LAB
The IDL-600 logic trainer is designed for the beginners to enhance the comprehension of analog theory. The design of IDL-600 is easy to operate and easy to understand.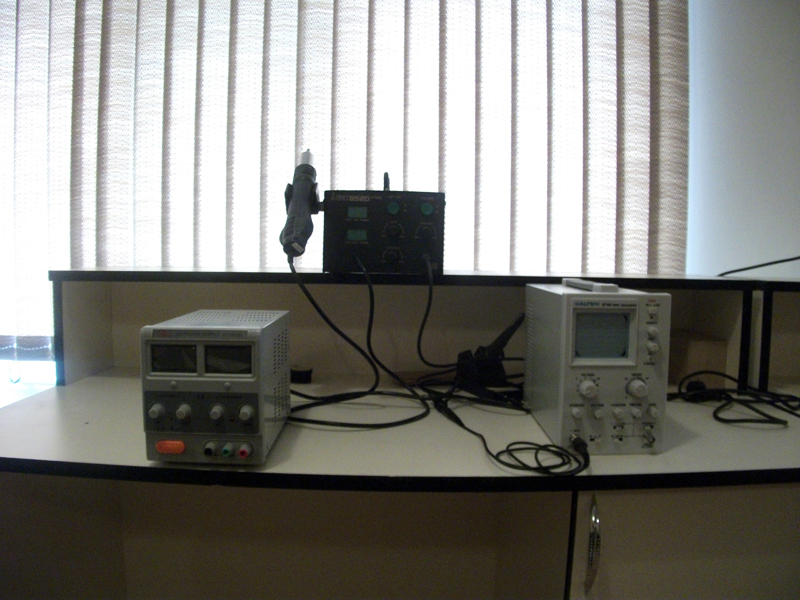 DIGITAL LAB
The IDL-800 Digital Lab is designed for the beginners to enhance the comprehension of logic and analog theory. The design of IDL-800 is easy to operate and understand.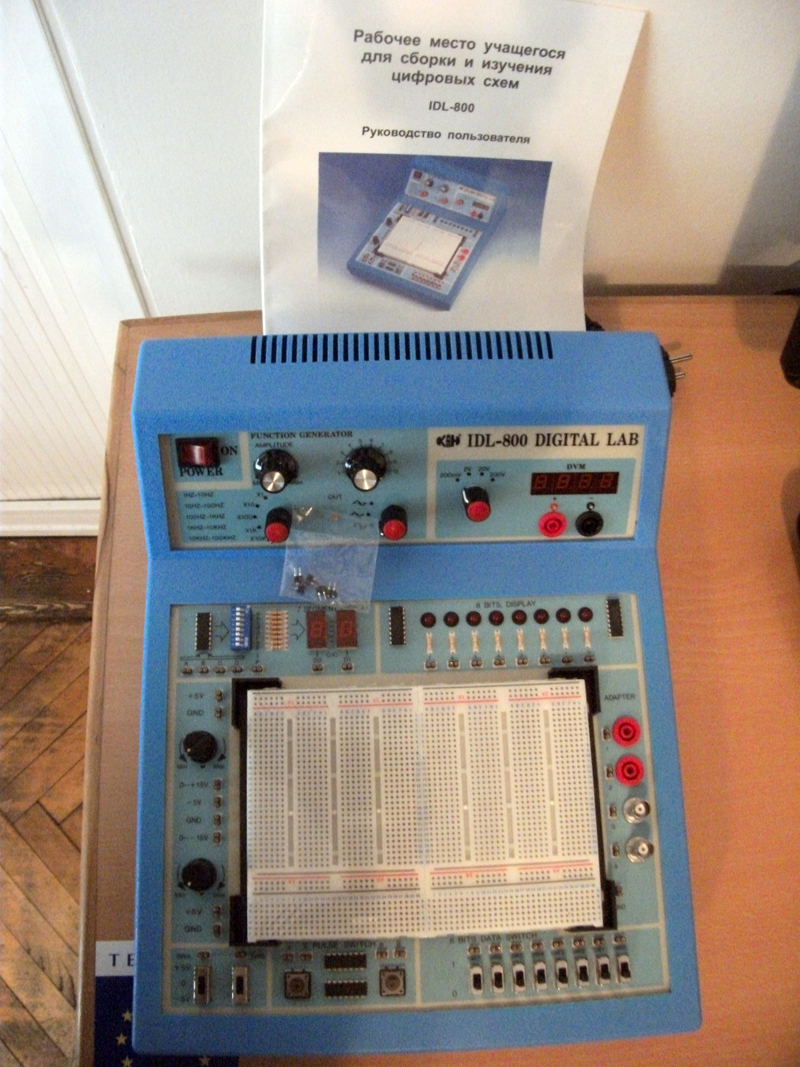 ALTERNATIVE ENERGY LAB
1) GES-100  
SOLAR CELL TRAINER (INCLUDING GES-18001, GES-13001, GES-13003 DAQ FOR WINDOWS 7/VISTA/XP/2000 AND GES-19001 ACCESSORIES CONTAIN GES-18002 AND TES-1333 SOLAR POWER METER)
DPS-1303AP - DUAL DC POWER SUPPLY (0+-30V, 3A)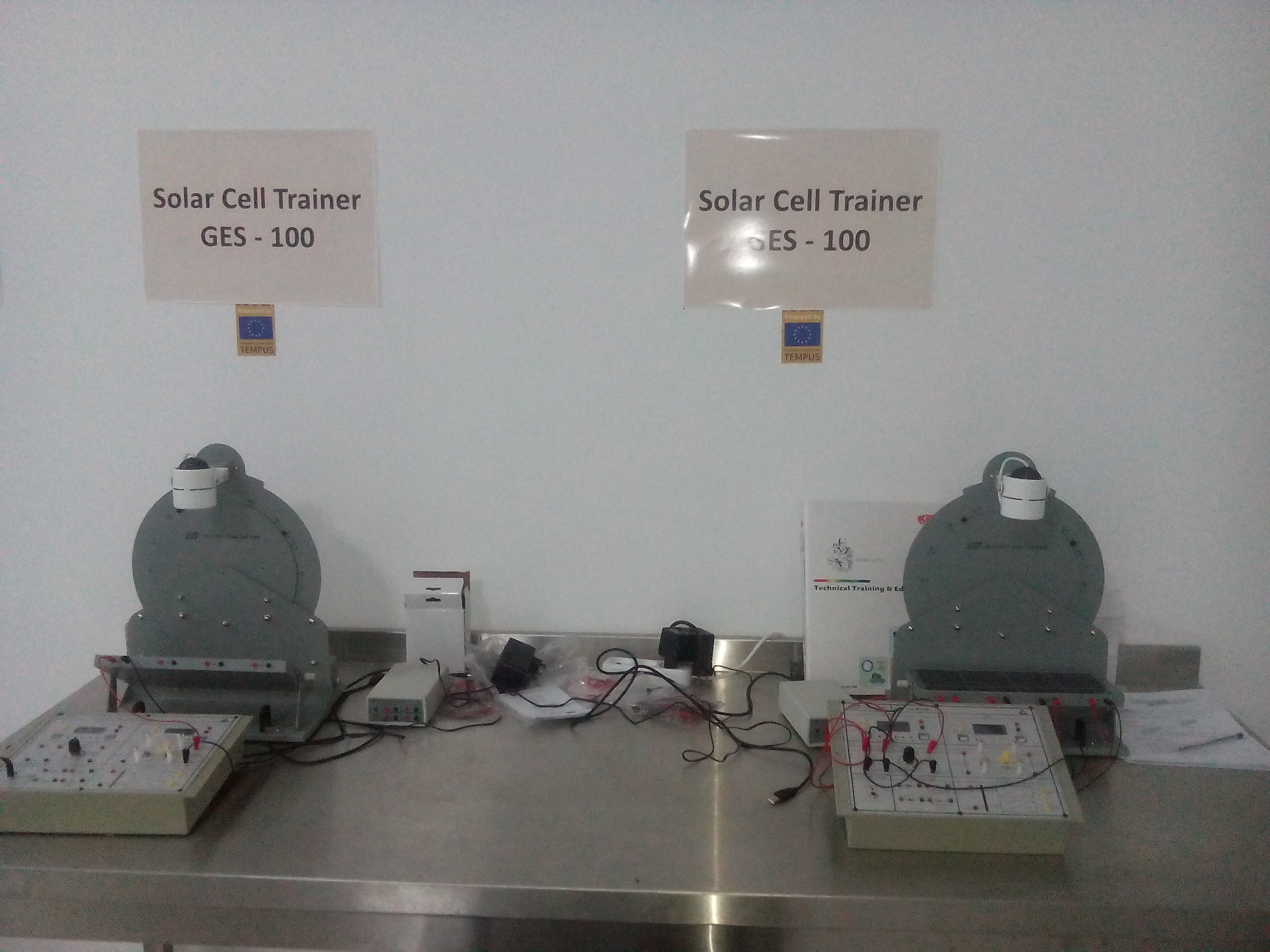 2) GES-200
WIND ENERGY TRAINER (INCLUDING GES-28001 TO GES-28004, GES-23001, GES-23003 DAQ FOR WINDOWS 7/VISTA/XP/2000, GES-29001 ACCESSORIES INCLUDE GES-28005, AND GES-29002 PROTECTION COVER )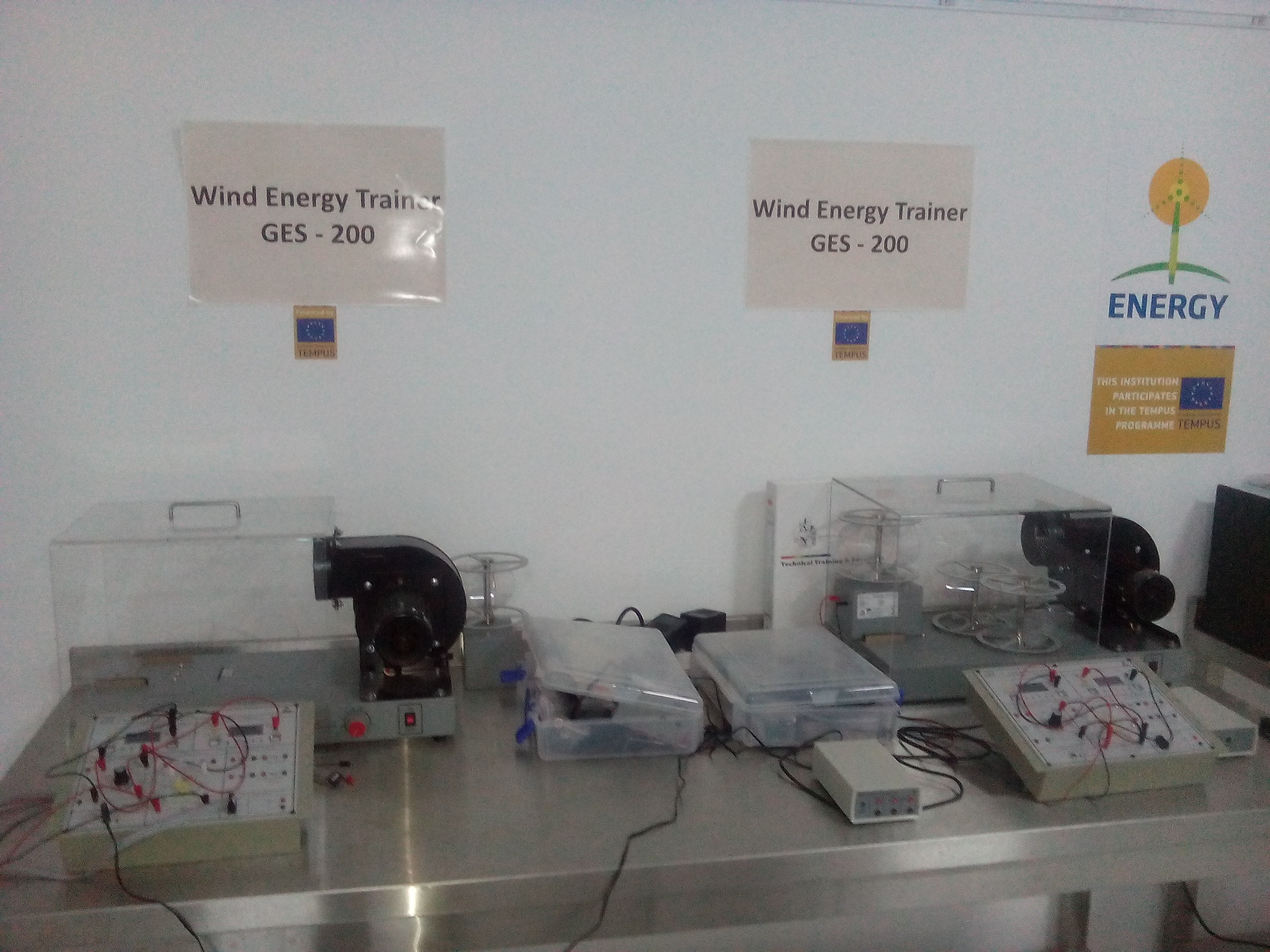 3) GES-300
H2 / O2 FUEL CELL TRAINER (INCLUDING GES-31001, GES-33001, ACCESSORIES GES-39001 AND DAQ GES-13003)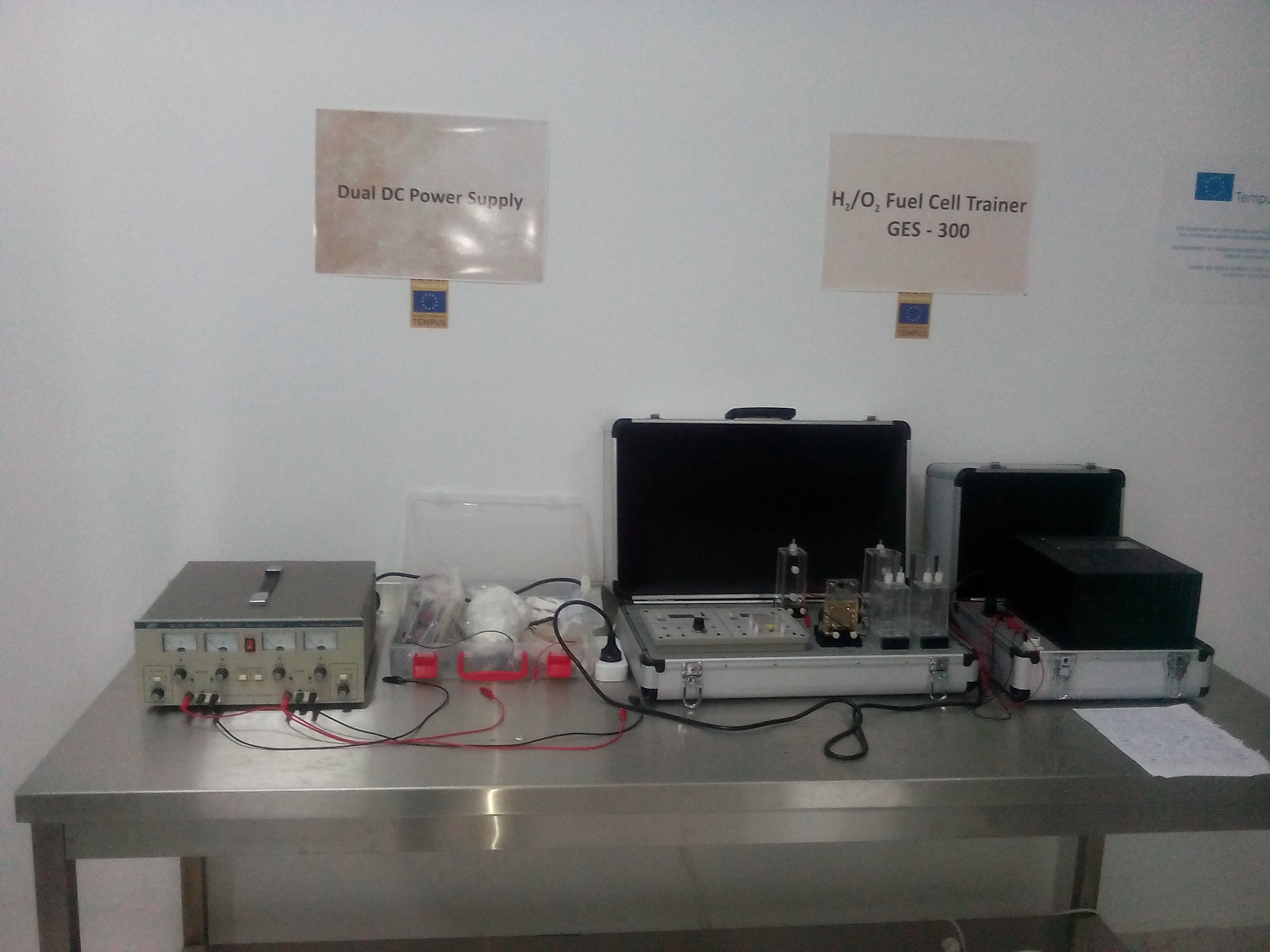 4) KL-310
ADVANCED DIGITAL LOGIC LAB (INCLUDING MAIN UNIT KL-32001, MODULES KL-34001 TO KL-340011 AND ACCESSORIES KL-39001 (WITH USB BLASTER FOR KL-34011))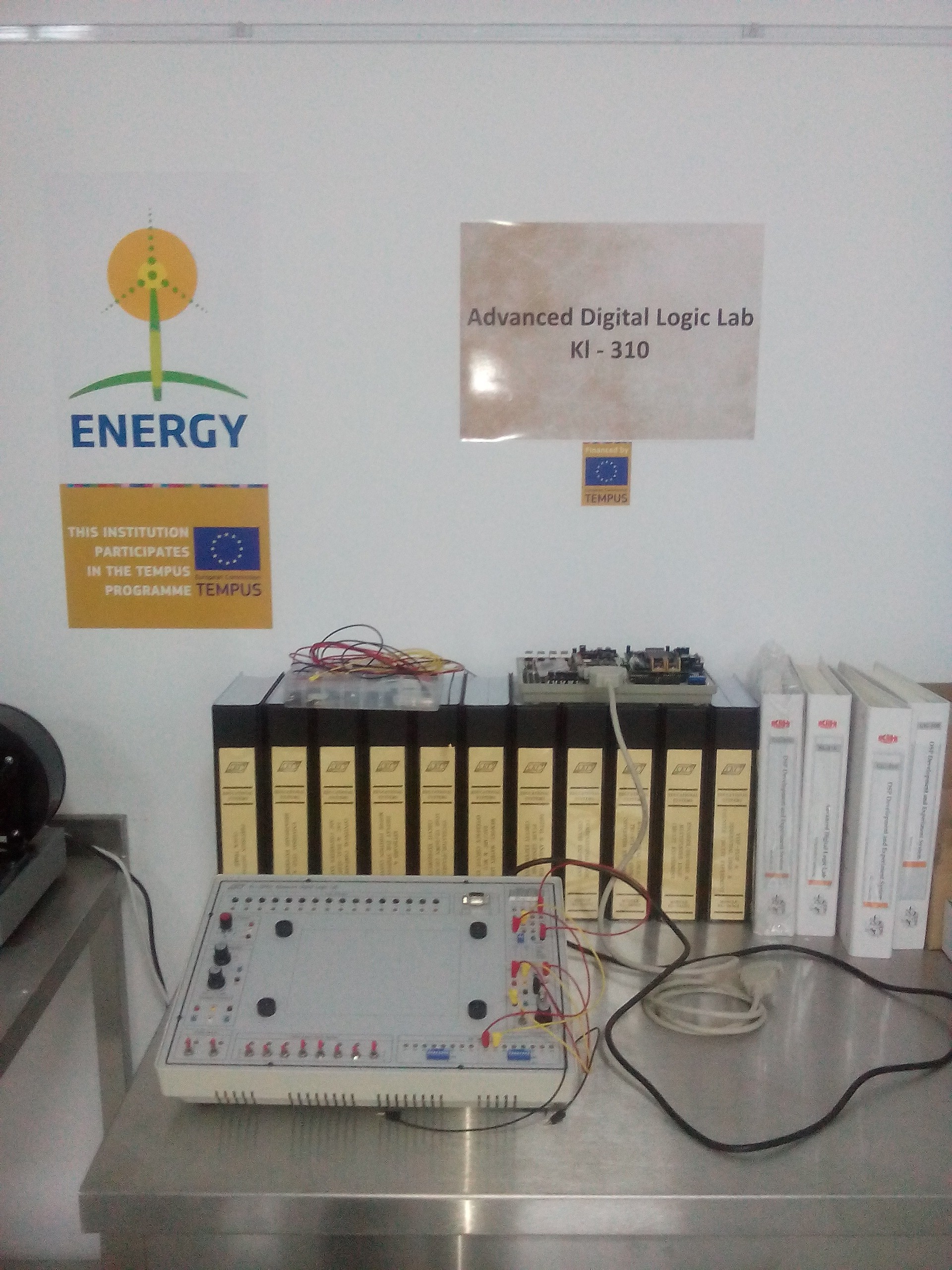 5) KL-600
MICROCOMPUTER SENSING CONTROL SYSTEM (INCLUDING KL-61001A, KL-63001 TO KL-63017, KL-68001 TO KL-68009 & KL-68011, LP-520D LOGIC PROBE AND DPS-1303AP DUAL DC POWER SUPPLY)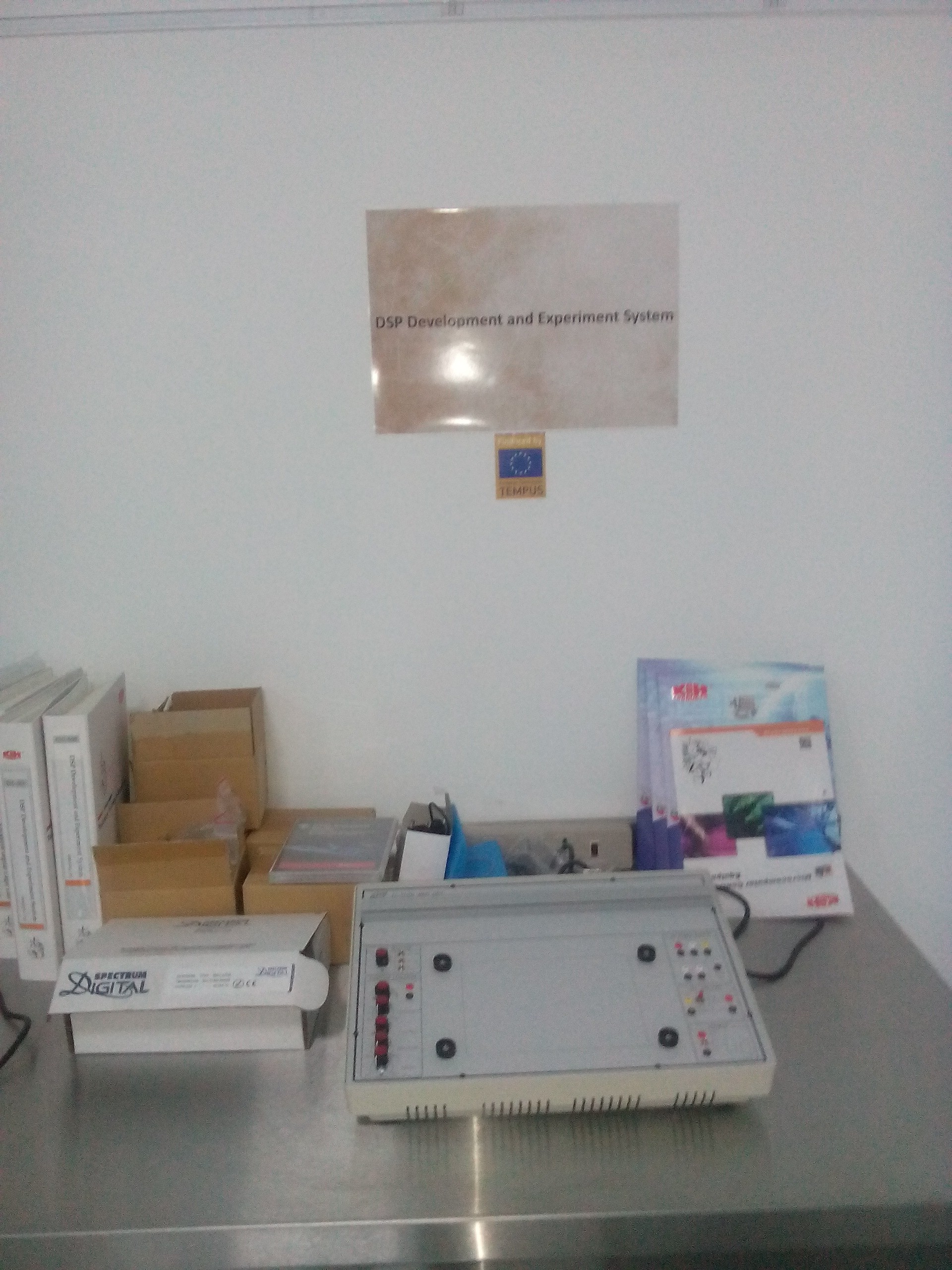 6) CIC-500
DSP DEVELOPMENT AND EXPERIMENT SYSTEM -COMPLETE VERSION PACKAGE (INCLUDING CIC-520, CI-51001, OPTION MODULES CI-53001 TO CI-53004, CI-53006, SOFTWARE, ACCESSORIES AND XDS510 USB)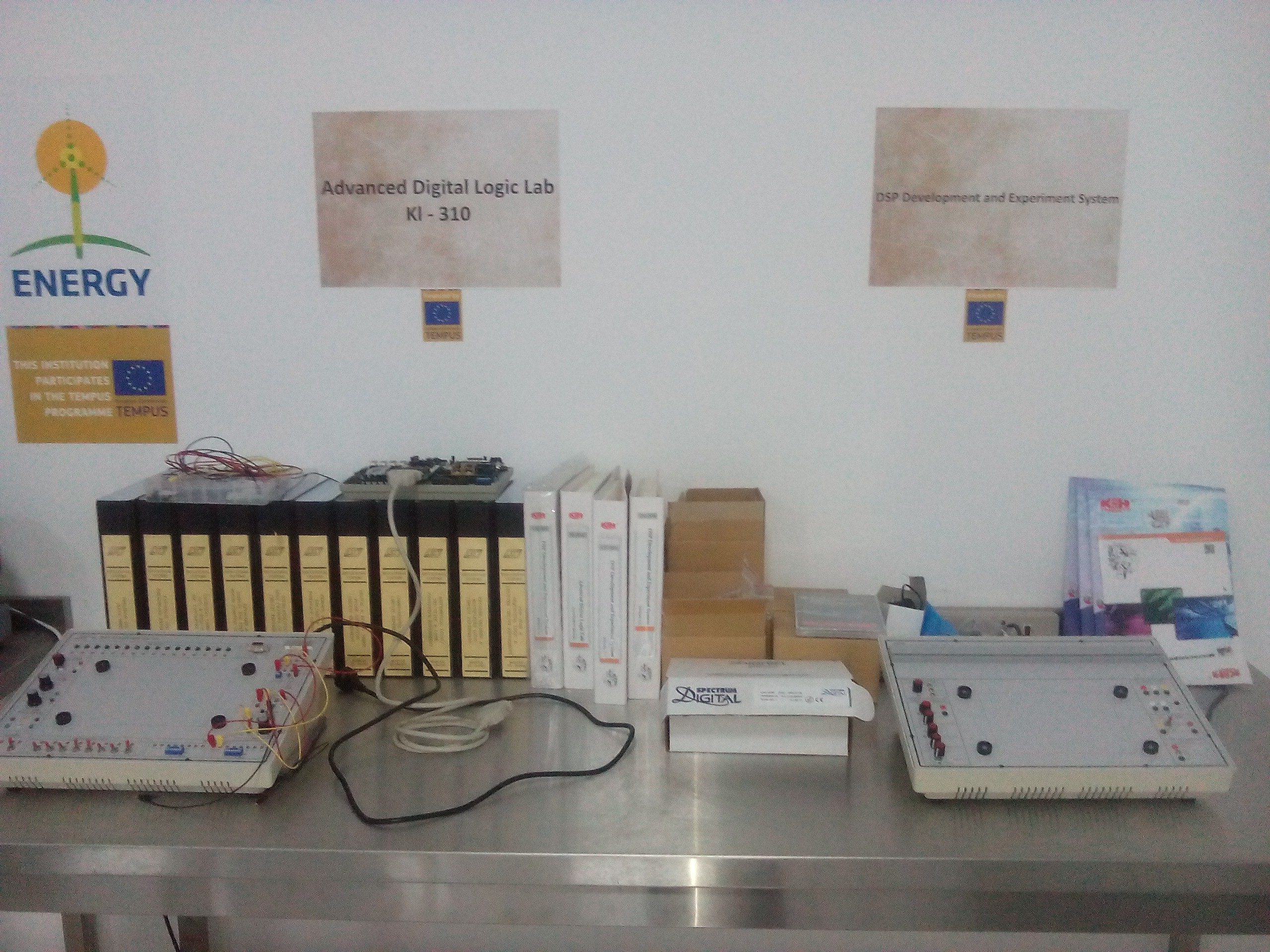 7) PLC-200
PROGRAMMABLE LOGIC CONTROLLER (SIEMENS PLC) TRAINER WITH SOFTWARE AND CABLE AND RUSSIAN MANUAL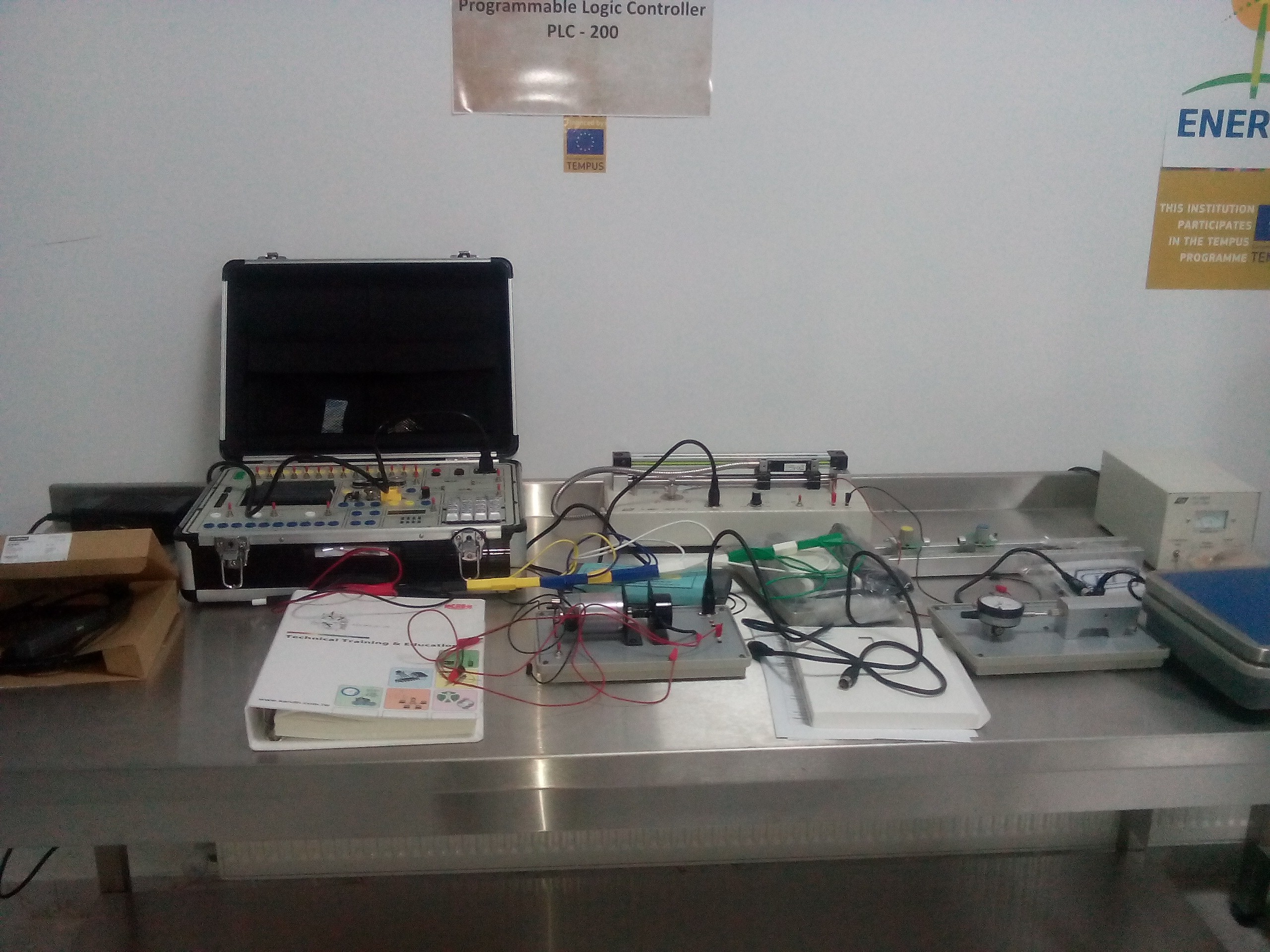 GENERAL PHYSICS LAB
Electromagnetic Induction and Faraday's Law.
Magnetic Field of a Solenoid
AC Circuits with AC Source
Hall effect
Sound Amplifiers
Photoelectric effect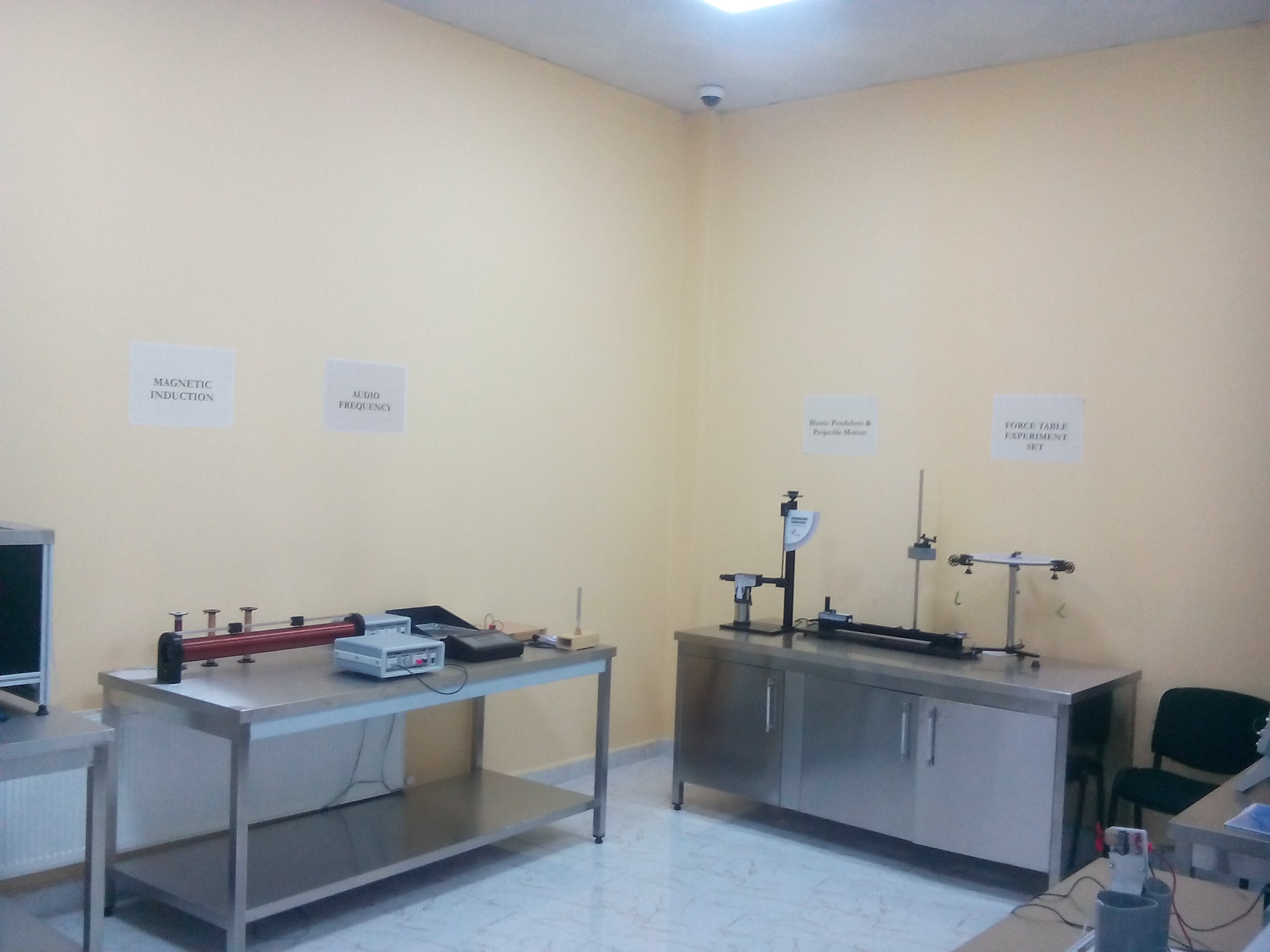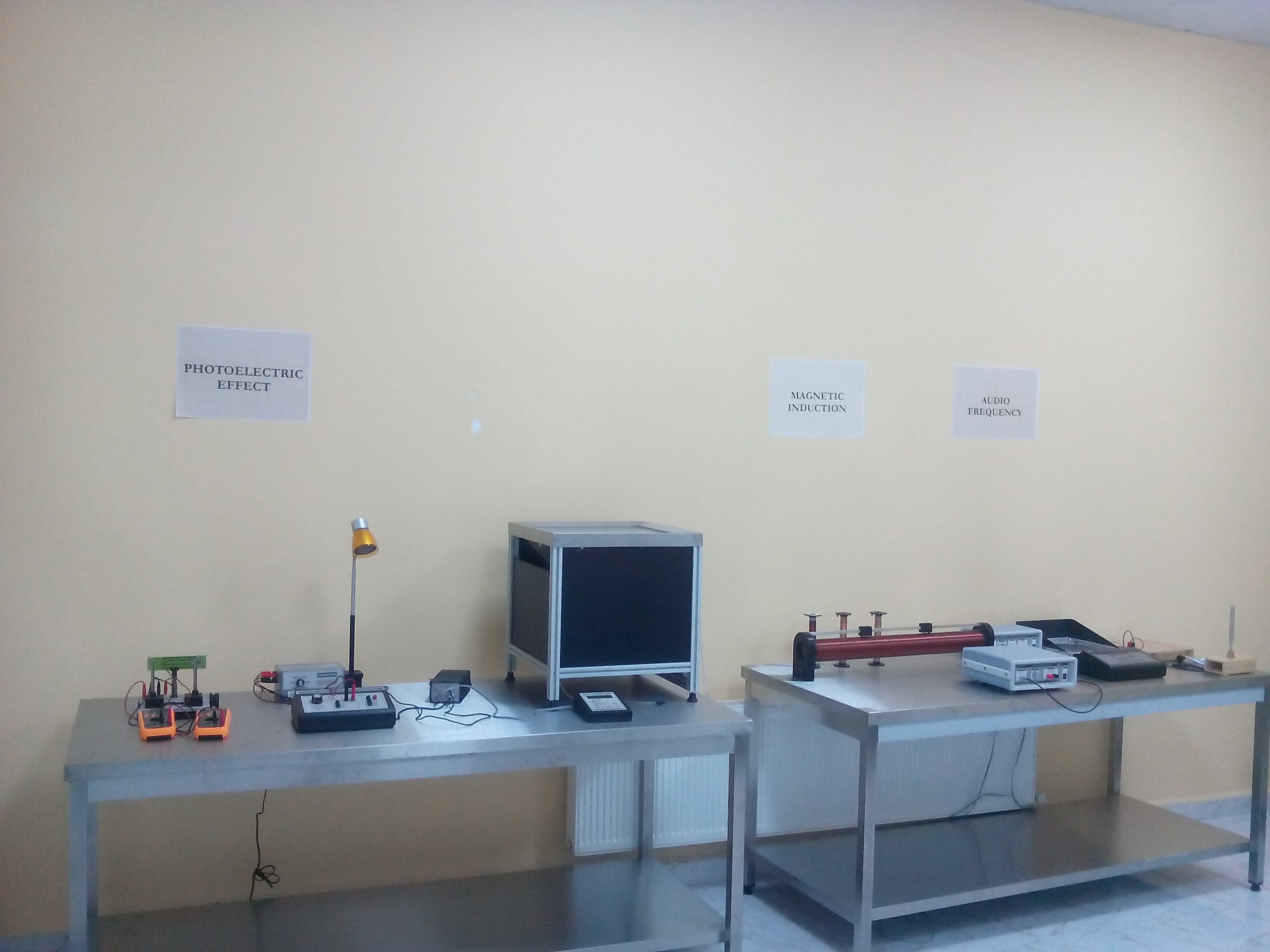 SOLAR CAR
 A group of students in the electronics department prepared a mini solar car with a power of 60 watts.